Content managed, member-based, e-commerce websites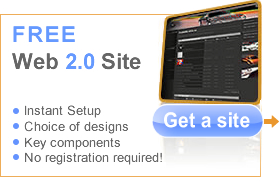 Notanant is an online community management system that gives you websites with integrated content management, social networking and e-commerce for full-feature community-based websites. Your site can be set up and managed just with a web-browser and is fully featured, live and interactive with instant-editing and site management from the Notanant menu bar.
Do-it-yourself web-sites with social networks and e-commerce
For low-cost community applications you can Do-it-yourself and get started with just one-click. You get an instant website that is fully extendable, editable and customisable including all the dynamic website features you need such as members, friends, forums, galleries, news. Learn More...
Design and website services for businesses
For businesses looking for professional eay-to-maintain websites, you can have your own custom designed website with built in tools for e-commerce and linking in customers as members means your website is more than just a brochure, while instant-editing allows you to keep your site up-to-date to keep ahead of the competition. You get a unique professional design service and support as to how to keep customers coming back. Call us on 0117 915 4557 to find out more. See our examples.


Customised social networking and Web applications
Notanant technology can be used to as the launchpad for specific functional Web applications such as music communities, providing space for bands and allowing them to sell their downloads, or a network of clubs and associations with complex membership management requirements, or an online magazine house looking for a delivery mechanism to manage subscribers. Notanant can do all these quickly and easily, reducing your development time, whilst extending your functional specification. Read our outline functional specification (Nov 2007).
| | | | |
| --- | --- | --- | --- |
| News and information about Notanant updates and developments | | | Notanant is founded on the principle of connecting people and information and making it easy to manage all types of communities from small clubs to professional subscription based shops or directories. |