Members and e-mail
All Notanant sites can have members (ie people who are members of the site) and communications with members, member access levels set, and members can link with friends if they desire.
Each Notanant site and subsite can contain members (use Add member), you can also set them to allow other people to join your site, or just parts of your site. You can then set members to have different levels of permissions and access to allow them to use your site as you require. For instance a private members only area, or allowing member-to-member communications.
Examples include sports clubs where members when logged-in can see and communicate with other members, but non-members can't see these details. Alternatively, a business which has a private 'dealer only' area, where confidential documents can be shared with a select group of people.
Privacy is also a big concern. When people activate their membership, they take control of their own details - administrators can't interfere with members own settings. However, site owners can restrict what members can share with other members. Members can also control their own privacy settings to say what they share with other people. Members can also set up their own friends networks independently of membership - friends don't become members unless the site owner allows it.
If you have members on your site and you allow it, then members can have priviledged access to information, see details of other members or communicate with each other via email straight from your site without having to know each other's email address.
Every member on Notanant has their own private webmail account. This is an internal messaging system built for members to communicate easily. You can check your messages at any time by clicking on the 'your messages' link in the Quicklinks menu. If you have a new message the link will change to say 'new messages'. Administration also sends messages via this webmail.
If you are connected to someone as a friend, then on your personal profile page you can see the activities of other people (privacy settings allowing), as well as your messages.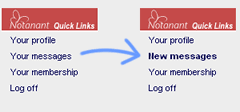 ---
Members can also add their own external email address, which will be hidden to other members. When you send an email address you can chose whether you want Notanant to email this extra address aswell.
You can email people individualy or in whole groups, which can then be saved for future use.
To send an email to another member of a site, first go to 'people' from the sites main page then select the person you wish to contact by clicking 'more...'. There will then be the option to send a message to the person.
You can have a message sent to a persons Notanant account and also their email address by also selecting 'To main email address'. Choosing 'Don't email' or leaving the options blank will just send the message to their Notanant account.