About
This site is here to help you choose the online style that best suites your needs and to show the flexibility of Notanant's visual appearance.
Here you can see the template styles available and how they intergrate with the functional components used in the Notanant system.
One-click changes

---
Notanant's data driven pages and flexible structure allow users to display their pages in a multitude of different ways. At the flick of a switch your sites visual style can be modified to any one of the pre-designed templates, or you can create and upload a template to suite your need yourself.
If you do not find a template to suite your needs, bespoke designs or alterations are available. Just contact the notanant design team for an immediate quote.
Site flexibility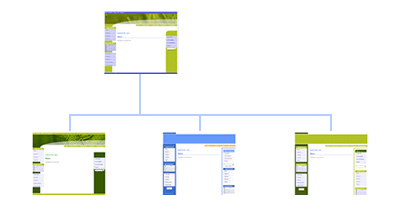 ---
There is also a flexibility for change inside the actual site structure. You can choose to display sections of your site in a different manner, using other templates. This can be especialy useful for larger sites as it clearly defines the different sections, helping navagation and giving depth to the design.
---
Swap and change

---
The templates themselves are customisable, you can swap and change the components, buttons or text easily to achieve a new look. Images can also be added to the templates, this might be the main banner or an image in the side panels.
You could just add a company logo.