Layout Guide
Common navigation components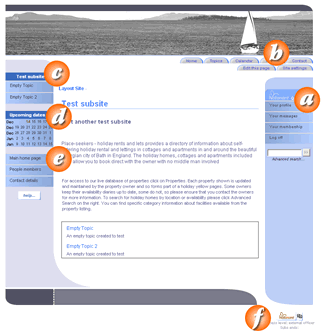 ---
A - Main Notanant Menu 'Quicklinks'
This menu contains links to your messages, profile and membership infomation.
B - Option Links Area
These links are used to perform editiorial actions and change depending on relevence and permission settings. All editorial options are removed if you do not have the permission to see them.
C - Info Menu
This displays content areas, articles and various other sections within your site. The menu dynamicaly changes from page to page.
D - Calendar
The calendar for the current site, showing a 5 week view and listing up and coming events. More detailed infomation can be found by clicking the calendar link
E - Org Menu
The Org or Organisation Menu contains general links for the site your in, people members, home page, contact details etc.
F - Notanant Link
This Link is always present on the page and leads back to the main page and also profile and membership infomation.